** Update 8/16/2019: I wanted to let you know that I still love this program and Nana has added a new level of membership for those that want even more. They now also have the, "Complete Clubhouse Membership – we now offer all-access to every single video art lesson with our new You ARE an Artist Complete Clubhouse tier of membership! That is over $3,300 worth of courses and videos – plus exclusive content. Includes all of the I Drew It Then I Knew It series of history lessons to match your studies."
*Some of the links in my posts may be affiliate links see below for more information. *
We love to use the You Are An Artist chalk pastel lessons for our homeschool art. I love that it is simple, fun, and only requires a few supplies. The children love that they can pause the videos or go back until they get it right. They also enjoy having a variety of different things to draw from history, nature, and even characters from some of their favorite books.  I'm super excited to share their brand new membership program, "You Are An Artist Clubhouse" with you today.
When you join the 'Clubhouse' you get so many options for your art program and so much support. I love knowing that I'll have new art options each month for the children to choose from. They even have some of their preschool art courses so that my four year old will have plenty of art that he can successfully complete.
Each lesson is focused and presented by a very talented artist and teacher Nana. She encourages the participants, and breaks down complicated chalk art projects in easy to follow step by step instructions. She is also very supportive and gentle in her instruction. In someways it's like watching Bob Ross, just for kids!
Your membership grants you access to over $282 worth of instruction and courses just to start! Each month you also have new courses added to your dashboard.  There are great instructions for getting started and fun lessons like forest animals and gardens. There is even a set of lessons titled, "Chalk Pastels at the Movies" featuring some of your favorite movie and book characters.
This will give you a great wealth of opportunities for art training based on children's interests, seasonal topics, or you can coordinate the lessons with other studies.  You even get a coupon for one extra course of your choice that isn't included in the membership. So for example, if you are studying American History you could get the American History courses and use those to tie your art in with your history. We will be taking advantage of the Ancient History course next year! If you really want to focus on history, they will even have a special monthly membership program dedicated to history.
There is a private Facebook group where they will answer all of your questions, you can share your art work, and twice a month Nana will be doing special live streaming art lessons just for members.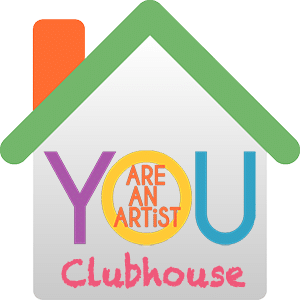 Life gets really busy and it can be easy to not make time for art. So many times I've had plans to find art lessons and gather materials only to never get around to actually doing the lesson with my children. With You Are An Artist Clubhouse Membership I don't have to gather new supplies with each lesson as all you need are paper and chalk pastels. I do not have to prepare because Nana does the teaching for me. I simply sit down at the computer and choose a new lesson. The lessons are short and only take us about 15-20 minutes to complete. By keeping it easy, short, and simple I am able to provide my children with far more art than I ever did when I was trying to do it on my own. I highly encourage you to go check out You Are An Artist Clubhouse and see if it is the right fit for your family!
Resource Library
When you sign up for the Schoolin' Swag free resource library you will get a link and password to the library, we are adding to the library each month with new items. You will also get a bi-weekly newsletter email to keep you up to date on what we have going on.
This post may contain affiliate or referral links, including Amazon affiliate links. As always I will never recommend a product that I don't believe in and you will never be charged more for purchasing through our links. It does help pay for the costs associated with the blog.
Deals and Freebies!!
FREE: Check out this great new FREE resource for classical and Charlotte Mason education! Classical Christian Education & Charlotte Mason. Great for folks already homeschooling or if you have friends that are looking into it!
FREE Poetry Pack from Write Shop! 20 Printable Activities and Worksheets, including: Practice exercises, brainstorming worksheets, poem planning worksheets, word banks, and colorful lined writing pages
"Psst! Did you know that SchoolhouseTeachers.com is having a sale? Not just any sale, but one that can open up a world of opportunity for your children for only $99! Plus, you get a FREE collectable tote bag and a print issue of The Old Schoolhouse® Magazine mailed to your door when you sign up for our annual membership! That is one year of access to over 380 different courses, not to mention the resources and videos and World Book content. Hurry over and sign up at SchoolhouseTeachers.com before the sale ends on May 31! And don't forget your coupon: YEARLYOPTION."