Some of the links in this post are affiliate links, see disclosure below for more information*
Ludwig Beethoven is perhaps the most well known name in classical music. He was born 250 years ago this December. As part of our normal music appreciation studies, and to celebrate his sestercentennial, we have decided to spend some time this month studying his life and music. I often hear people say that they want to introduce their children to famous musicians but they do not know where to start or how to make it interesting for younger children. While I'm not a classical music expert, we have developed an appreciation and to help you I have complied a variety of resources about Beethoven that are fun and engaging for a variety of ages.
In our home we currently have a two-year-old, six-year-old, twelve-year-old, and fourteen-year-old. While I don't expect the two-year-old to remember any of the facts about Beethoven, he can begin to learn to appreciate his music by listening along with us.
Several years ago, we had the benefit of being introduced to the Classical Kids series through the children's programming at the North Carolina Symphony. We enjoyed a series of concerts there each year that were geared towards children. They had all of the talent and musical finesse of their regular symphony concerts, but with the addition of explanations and visual performances. One of the performances we had the opportunity to watch was, Beethoven Lives Upstairs. In addition to live performances, you can listen to it on CD (or streaming) or watch the movie! This performance showcases Beethoven's music while also teaching about his life.
With my daughter's love for the violin and music, we took the opportunity to review Zeezok's music appreciation course last year. We loved the biographies that went along with the curriculum, and were excited to find that there was one in the same series used by that course on Beethoven. My daughter is going to be reading Ludwig Van Beethoven and the Chiming Tower Bells this month as a part of her literature studies.
I have only a surface knowledge of music appreciation, and so it is one of the subjects where I like to get a little more expert help. We use SQUILT music to help bring more music appreciation into our home. SQUILT offers a few different options. First, they have an inexpensive monthly calendar with a music selection to listen to each day. This is a simple and quick way to introduce more music. However, if you want to take it a little further, they have a monthly membership which gives you access to two live online lessons each month, as well as a library of recorded lessons. For the month of November, the live lessons will be focused on Beethoven (and they will be recorded and in the library if you join after they air live.) We really feel like this is a great investment for our family that encourages us all to learn more and appreciate music.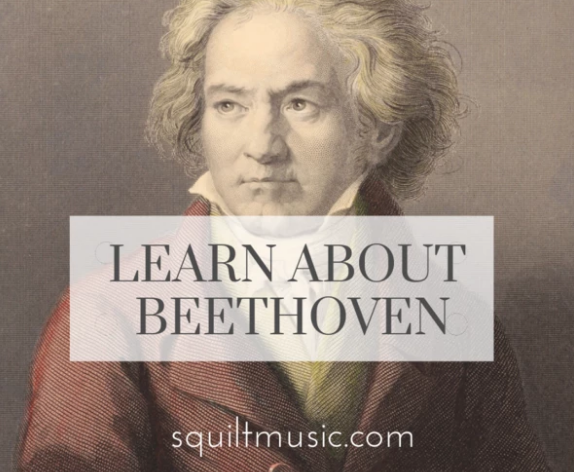 Of course, we are also including a variety of books in our study of Beethoven. We have several in our personal collection and I was able to find a few more at our local library. Ludwig Van Beethoven (World's Greatest Composers Series) is one that is in our personal library. We love the books in this series because they are well written, provide lots of good information, and are still entertaining. The illustrations always have my children laughing. We also have Lives of the Musicians and Beethoven Lives Upstairs. We borrowed 39 Apartments of Ludwig Van Beethoven from our local library as well.
To learn more about Beethoven's life and works, there are several websites that have great information. Classics for Kids has a lot of great information and the opportunity to listen to several selections of his music. Classical Kids Music and Kids Music Corner also offer some good resources. If you have a SchoolhouseTeachers.com membership, they have two great courses with lessons on Beethoven. For younger children, first-third grade, they have their Great Musicians course. Beethoven is the first of twelve musicians covered in the course. This could also be a great introduction for older elementary students. For middle and high school students, Composing with the Masters covers Beethoven in lesson 10. As always, you can choose to take the whole course, or just do the lessons of interest to your family.
If you want to tie art into your music studies, Nana from ChalkPastel.com has a great lesson for Beethoven. in her Composers course that is included with the clubhouse membership. I know that my son will enjoy this part of our studies. You can also have your children draw what they hear as they are listening to the music.
Finally, for familiarity with his music we enjoy listening in two main ways. First, just play some of his music in the background as you are going through the day. You can purchase a CD, listen on Amazon Prime Music, or find some on YouTube. Second, we like to use the SQUILT method when we want to be more intentional. This is just a few minutes at a time of, "Super Quiet Uninterrupted Listening Time". Mrs. Mary teaches this method in her SQUILT live classes if you want more information.
Whether you have children that love music and want to learn more or you are just beginning your studies, I hope that you can find resources here that you can use and enjoy with your children. I want to leave you with a final piece of advice, do not feel like you have to use all of the resources or spend lots of time on the study. Start with what seems most interesting or easiest for you and then see where it takes you. Even a few minutes a week or a lesson a couple times a month can make a big difference. I would love to hear about your favorite Beethoven resources or what other composers you would like to learn about in the comments.
---
Resource Library and Affiliate Disclosure
When you sign up for the Schoolin' Swag free resource library you will get a link and password to the library, we are adding to the library each month with new items. You will also get a bi-weekly newsletter email to keep you up to date on what we have going on.
This post may contain affiliate or referral links, including Amazon affiliate links. As always I will never recommend a product that I don't believe in and you will never be charged more for purchasing through our links. It does help pay for the costs associated with the blog.
Deals and Freebies
Today is the last day of the Evan-Moor BOGO sale on their Skill Sharpener Books.
Amazon is doing lots of daily deals for great educational toys, craft supplies, and even books!