I love peppermint and can eat it any time of year; however, Christmas, which falls conveniently at the beginning of "minter," is my season to enjoy the memorable, sweet spice of peppermint. Just the smell of it puts me in a festive mood. I like to eat candy canes or even put them in my hot cocoa for a special treat. Peppermint even works great in cookies!
This post has affiliate links; see the disclaimer below for more information.
This year I decided I wanted to create several thematic one-day units to do with my children during this season. Units that were fun but still educational and would bring us together as a family. One of our themes is peppermint. We already enjoy several activities that involve peppermint, so I simply had to gather them together for a day of fun.
Movies
First, we love the movie "The Candy Maker's Christmas" and watch it annually with our SchoolhouseTeachers.com membership. The Legend of the Candy Cane (included free with Amazon Prime) is another great option. You could use the movies to start the conversation about peppermint and candy canes, or my personal choice is to finish up the day with a movie and a peppermint-themed snack!
Snacks
When I think about peppermint snacks, my first thought is peppermint hot cocoa. It is a family favorite and so easy. Simply make some hot cocoa and add in peppermint candy or candy canes. You could even sub in peppermint extract, but my children love to watch the candy cane melt into the hot cocoa. You can make the cocoa from scratch or simply use packets. Whatever works best for your family.
If you want to try something different or add a little food to the snack, you could make sugar cookies and use crushed peppermint candy for sprinkles. My husband's grandmother would always have the young ones smash candy canes in a plastic bag as an ice cream topping. You could also try one of these fun peppermint snack ideas. The whoopie pies look very tempting. Of course, you could always cut out candy cane-shaped cookies and decorate them with red and white icing.
Art Study
We always like to take the opportunity to add a little art to our unit studies. I love this fun mittens and mug lesson by Nana at You Are An Artist. It would be a great lead into the hot chocolate and peppermint. These quilled candy canes are great for older children and could even be given as a gift. This thumbprint candy cane would be fun for younger children.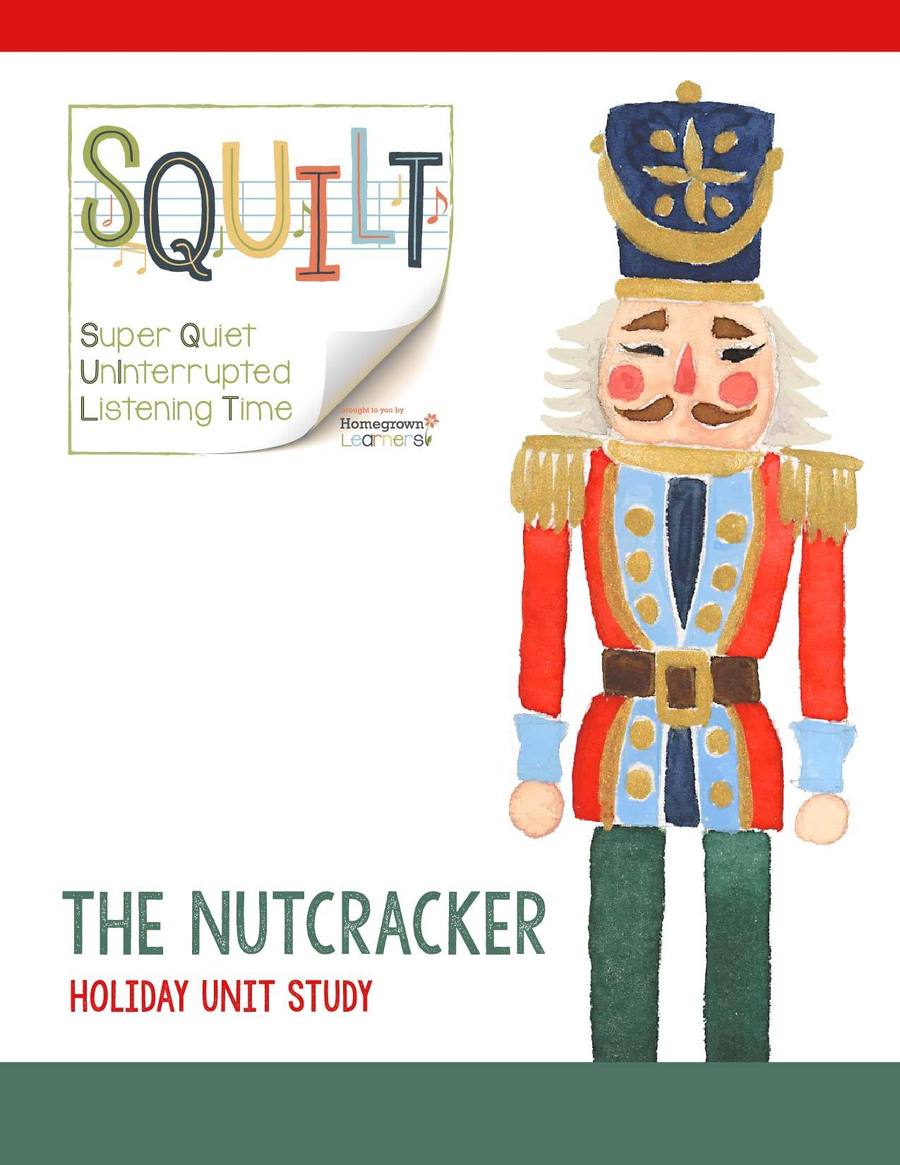 Music
Music is probably not the first thing you think of when you think of peppermint, but if you wanted to add a bit of music to your study, the nutcracker is a perfect choice. The Russian dance of the Candy Canes is a great way to combine peppermint with music and dance. As we study through some of the Nutcracker this year, we are using Maestro Classic's The Nutcracker. Played by the London Philharmonic Orchestra and narrated by Jim Weiss. Mrs. Mary over at SQUILT music also has a great Nutcracker study if you want to learn more.
Books about Peppermint
No unit study in our home is complete without books! There are many options, but I am looking forward to using Christmas in the Big Woods and Christmas Remembered. Christmas Remembered is a book of Christmas memories written by Tomie DePaola. One of those stories is A Candy Cane Christmas.  Christmas in the Big Woods is a picture book based on the Christmas story from Little House in the Big Woods.
I hope you can find some enjoyable ideas for your family.
Pick the fun ones, and remember you don't have to do everything.
I would love to hear what ideas you have for a peppermint-themed day and see pictures of your fun projects.
Resource Library and Affiliate Disclosure
When you sign up for the Schoolin' Swag free resource library you will get a link and password to the library, we are adding to the library each month with new items. You will also get a bi-weekly newsletter email to keep you up to date on what we have going on.
This post may contain affiliate or referral links, including Amazon affiliate links. As always I will never recommend a product that I don't believe in and you will never be charged more for purchasing through our links. It does help pay for the costs associated with the blog.
Deals and Freebies
If you have not tried SchoolhouseTeachers.com, you don't want to miss this sale!
Register now to get daily reminders for IEW's 12 days of Christmas that begin Dec. 26th. Each day you get a new FREE gift from them! I look forward to these goodies each year.
If you missed the Black Friday Sale, Tuttle Twins is back with a Christmas Sale, it lasts for a week but the price goes up each day, so the sooner you buy the better the deal.