Every year in December, I change things up in our homeschool, and we do Christmas school. Every year is a little different, and we use various resources. Nt goal is to allow us to enjoy the seasons while continuing to learn and grow.
*Some links in this post are affiliate links; see disclosure below*
After trying to add Christmas into our schooling and overwhelming myself for several years, I learned to exchange things and not to add more to them. (You can read more about that here.)
Together
Last year we were introduced to Jotham's Journey and really enjoyed it as our Advent reading. So this year, we decided to read the sequel: Bartholomew's Passage. I love that it helps us keep our focus on Jesus and the children love listening. I also appreciate that it is simple to implement. Just take a few minutes each day to read the section specified for that day. If we get behind (because life is crazy), I read two days at once.
We study hymns year-round during our morning time, but my favorite is Christmas hymns. We will study a different hymn each week. We just added a new study of The First Noel to the free resource library in addition to the ones on the hymn study page. I may also choose a few that go along with an Advent study I am doing with the ladies from my church.
In addition to studying hymns, my children are learning various Christmas songs on their instruments, both independently and together. We are thankful that their music teacher over at Practice Monkeys helps them learn new Christmas music each year.
We are pausing our family Bible reading through Genesis and going to read through an advent scripture reading plan.
Finally, my little boys and daughter will be doing art lessons with You Are An Artist. There are some beautiful ones that go with many of our Christmas hymn studies. There are also lots of other fun Christmas lessons. We have the clubhouse membership to access all of the art lessons, and we enjoy the variety. However, those can be purchased separately if you just wanted to check out the Christmas lessons.
Teens
My two high schoolers can't trade out as much of their work because of dual enrollment and more structured courses, but we do still have some flexibility. They are joining in on the family activities and also incorporating Christmas into our literature. Last year we did Charles Dickens.
This year we are studying American Literature and decided to read Little Women during this season. While not an explicitly Christmas book, Christmas plays a key part in the book. We will listen together on audio and then watch the movie together. We will also be doing other activities comparing the Christmases in the book.
My Preschool and Elementary Boys
Years ago, I found Truth in Tinsel as an activity to do with my two children. Fast forward a 'few' years, and I now have four children. I am excited to give my two younger children the Truth in Tinsel experience. Truth in Tinsel is a great program that takes children through the Jesse Tree with Bible reading, discussion questions, and craft projects.
We will be doing a couple of the crafts each week, and on the days we do not do crafts, they will be coloring the accompanying Christmas ornaments. I even got a small artificial tree to put in our kitchen, where they hang the ornaments daily. This will be replacing our regular Bible curriculum.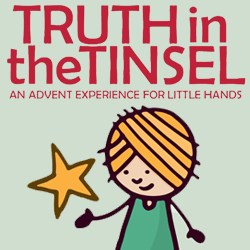 We will take a break from our regular science program for the month of December and do some festive nature study activities. The time outside is great for burning off the extra energy and excitement that comes with the season. Nature study is also a great way to help children connect with nature and expand their interests.
My eight-year-old just finished a level in his reading curriculum. So we are taking a break from the formal reading curriculum until January. In its place, I will be having him read some easy readers, including some great Christmas options.
We will also be doing a book Advent. We have chosen twenty-five of our favorite Christmas picture books and wrapped them up. A few of them we put specific numbers on to correlate with certain days, but most of them are random.
Each day the boys will choose a book to unwrap and have me read it aloud. We will enjoy the fun stories, talk about the beautiful illustrations, and, some days, enjoy some fun Christmas snacks. I am really looking forward to our Christmas school this year.
If you want more ideas, you can check out the links below to see what resources we have used in the past.
Additional Christmas School Resources
Our Christmas School Ideas 2021
Mega Homeschool Christmas Resource Round-Up
Christmas Music Appreciation Resources
A Christmas Journey and Activity Book (Review)
Resource Library and Affiliate Disclosure
When you sign up for the Schoolin' Swag free resource library, you will get a link and password; we are adding new items to the library each month. You will also get a bi-weekly newsletter email to keep you updated on what we have going on.
This post may contain affiliate or referral links, including Amazon affiliate links. As always, I will never recommend a product that I don't believe in, and you will never be charged more for purchasing through our links. It does help pay for the costs associated with the blog.
Deals and Freebies
Check out all of the Cyber Monday Deals on curriculum, gifts for mom, and more.